As an innovator in healthcare electrical safety, Bender strives to develop cutting-edge technology fit for healthcare facilities. For decades, facilities have been burdened by the inability of traditional UL-1047 Isolated Power Systems and Line Isolation Monitors (LIM) to assist in determining which devices or circuits are causing faults and sending the LIM into alarm. Often, this would result in hours (if not days) of facilities troubleshooting to determine the root cause resulting in downtime of the operating room, and rescheduling procedures in the process.

Bender engineers have developed a solution capable of immediately identifying which circuits contribute to a ground fault on an isolated power system. Our fully automated ground-fault location systems (EDS Series) are designed to reduce operating room downtime and provide efficient troubleshooting, resulting in potential facilities savings of thousands of dollars per year. Find the faulty device and circuits within seconds.
Locate faults automatically.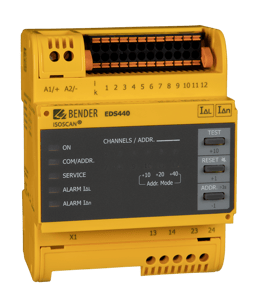 With the EDS441 kit, fault location takes place automatically and while the system remains online, negating the need for interrupting (opening) branch circuit breakers or disconnecting equipment.
When combined with Bender's Line Isolation Monitor (LIM2010), the EDS441 locates ground-faults in ungrounded hospital Isolated Power Systems. Using a special measurement signal after a ground fault is detected, up to sixteen separate channels are monitored in parallel to identify the corresponding circuit.
Benefits
Fault location during operation
Electrical issues can be detected and located while keeping the installation fully energized.
Automatic location of faults
Automatic location negates the need for opening branch circuit breakers or disconnecting equipment.
Reduced maintenance costs
A noticeable decrease in maintenance costs due to the accuracy of detection and decreased human interaction on the system.
Indicator display
Indication of fault circuit shown on LCD displays at both the location device and remote indicators.